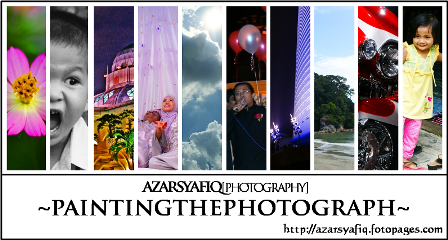 Ladies and gentlemen...
Feel free to visit my Fotopage to see the world from my lens view..

Click on the picture to visit it ok..

In photography, my field of interest is in portraiture.. And you can expect most of the pictures taken are people's portrait.. I just love to capture people's emotion at that very moment.. To freeze the elements of emotion is my goal in capturing portrait and make viewers try to guess the real story behind the picture is what I love to see..
However, you just don't expect me to capture people's portrait only.. Because I take photo of everything that I feel is an art.. My interest (most likely to capture) is in people's portrait but I am also polishing my skill to be a all rounder photographer..in the name of art..huhu..
for me, photography is an art of freezing a meaningful moment. Name it scenery, landscape, people, still things and what ever lah.. And a perfect picture (the outcome of photography) consists of its story (can be interpreted in many ways), its subject, its composition (all those techniques) and the most important thing, it brings a kind of feeling to viewers...(ni part paling susah nih..takkan kite amik kite lak yg syok sendiri kan)
ThankQ =)